About Hamilton: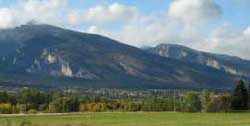 Hamilton, Montana is located in south-western Montana in the beautiful Bitterroot Valley. This is a wide open valley traversed by US Highway 93 and the Bitterroot River. Hamilton is both a very popular traveler's destination and great place to live. This is a paradise for people who love the outdoors, nature, gardening and community. Hamilton has both the small-town feel of rural Montana, and quick access to city services in nearby Missoula.
This valley was once home to the Bitterroot Salish Indian Tribe. The tribe was noted for their friendly nature. In 1877, Chief Joseph and his tribe of Nez Perce passed through Ravalli county on their way to Canada in order to escape confinement to a reservation. The Salish were relocated to their current Flathead reservation under the Treaty of Hellgate.
Lewis and Clark came into the valley September 4th, 1805. The valley that we, today, find to be a mecca of gardens and recreation, was a cold inhospitable place to the Corp of Discovery as they made their way to the Pacific.
The city of Hamilton was founded in 1890 by an Irish immigrant and copper magnate, Marcus Daly. Daly came into the valley and founded a 22,000 acre stock farm. He decided it would be a good thing to have a town nearby, so he laid out his own city along the Northern Pacific Railway route, with plots for churches, schools, parks and businesses. The town was named after his employee, James Hamilton, who surveyed the first plats.
The last turn of the century was a wild and prosperous time in Hamilton. Calamity Jane lived here for awhile, running a cafe on Main Street, and the Ravalli County Fairgrounds once covered 40 acres!
Hamilton is the largest town in the Bitterroot Valley, which is the location of the classic book, "A River Runs Through It", by Norman Maclean. This book is a wonderful story of family and fly fishing, that encapsulates the vast beauty of the Bitterroot Valley. A must read for anyone interested in the area.
Weather Information